Not everyone can tell a story without words. There are millions of things in any given situation that your 5 senses detect to create a sense of space and emotion. So what does it take to capture a person, setting or emotion through still images?
Last week I was fortunate enough to hang out with Joshua Francis, owner of the Oxford Doughnut Shoppe in Oxford, OH. He opened his doors 11 years ago after graduating from Miami University. He grew up in Oxford, went to Miami and bought the shop; he never left.
I was invited to join him during his nightly doughnut preparations for the following day. I arrived at 10pm and stayed for hours. I watched him mix the dough, let it rise, cut it, form it into doughnut shapes, fry them, ice them, stack them and package them. He does this dozens of times, every night of the week. The next day he closes his shop when he sells out.
Right away I knew it would be a great night, not because we were baking doughnuts all night (it sure helped though) but because of how great of a guy Joshua was. I had never met him before, but he welcomed me with a warm greeting, offered me free doughnuts, told me stories and got to know me. He was an all-around amazing guy, and after a long night with him I can't say a bad thing about him.
So how the heck was I going to portray him in pictures?!
At first I started posing him; interrupting him as he did his work to get an awesome shot that I pictured in my head hours before. They looked great, but that's all they were: great photos. They said nothing about who he was or how he made his doughnuts.
So I tried a different approach, an approach that works so often in photography: the "fly-on-the-wall" approach. Stay out of the way, pretend you aren't there, and take photos as things naturally happen.
The second I started doing this my photos did a 180. They weren't the most aesthetically stunning photos you would put alone in a portfolio, but they captured the feel of the kitchen that when paid together tell a story. A caught Joshua laughing mid-sentence. I caught him focusing with a face of determination as he performed a tedious action. I caught the blur of the flour as it flew through the air. I caught the splashing of icing on doughnut as Joshua drizzled it over the batch.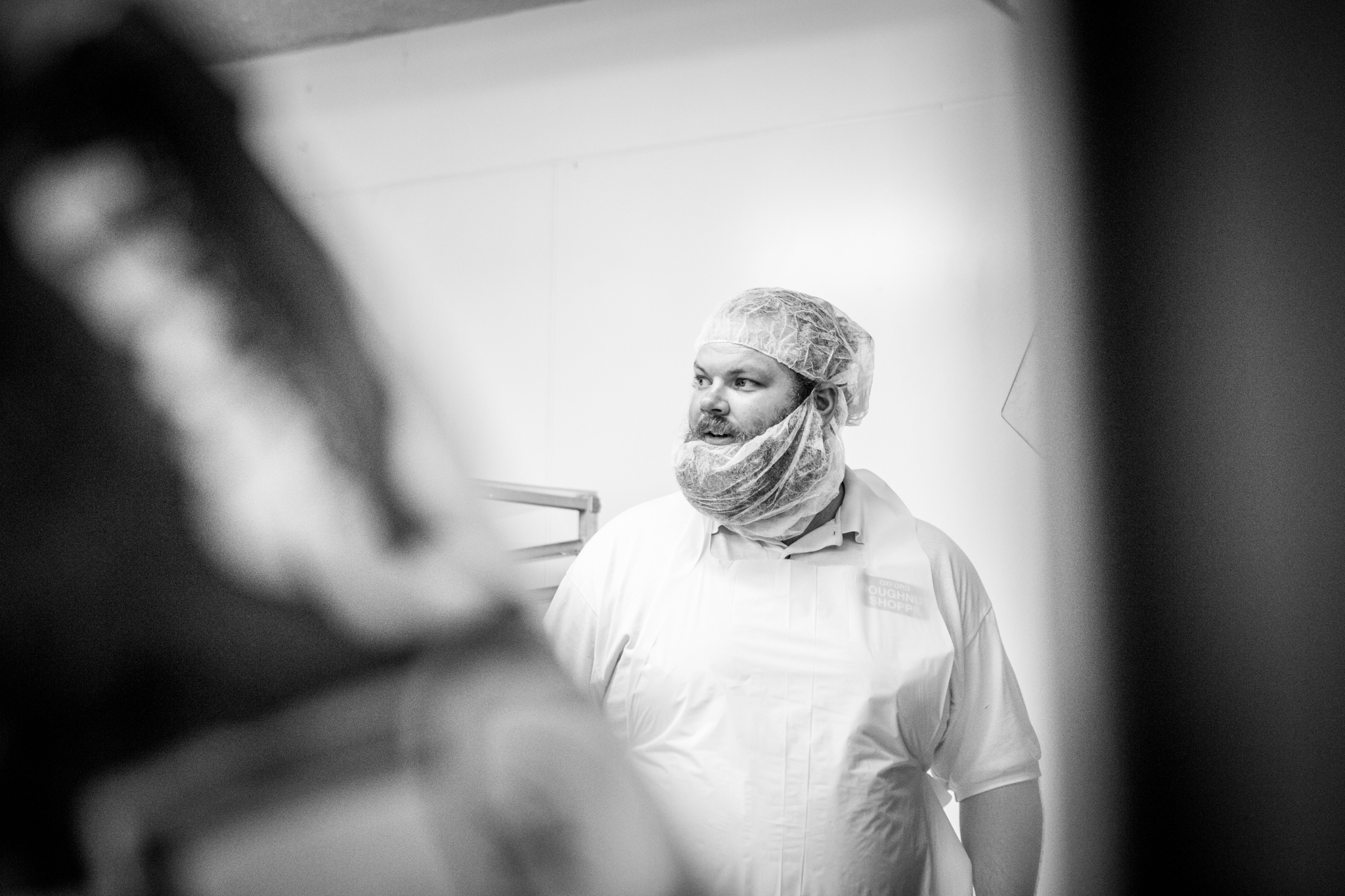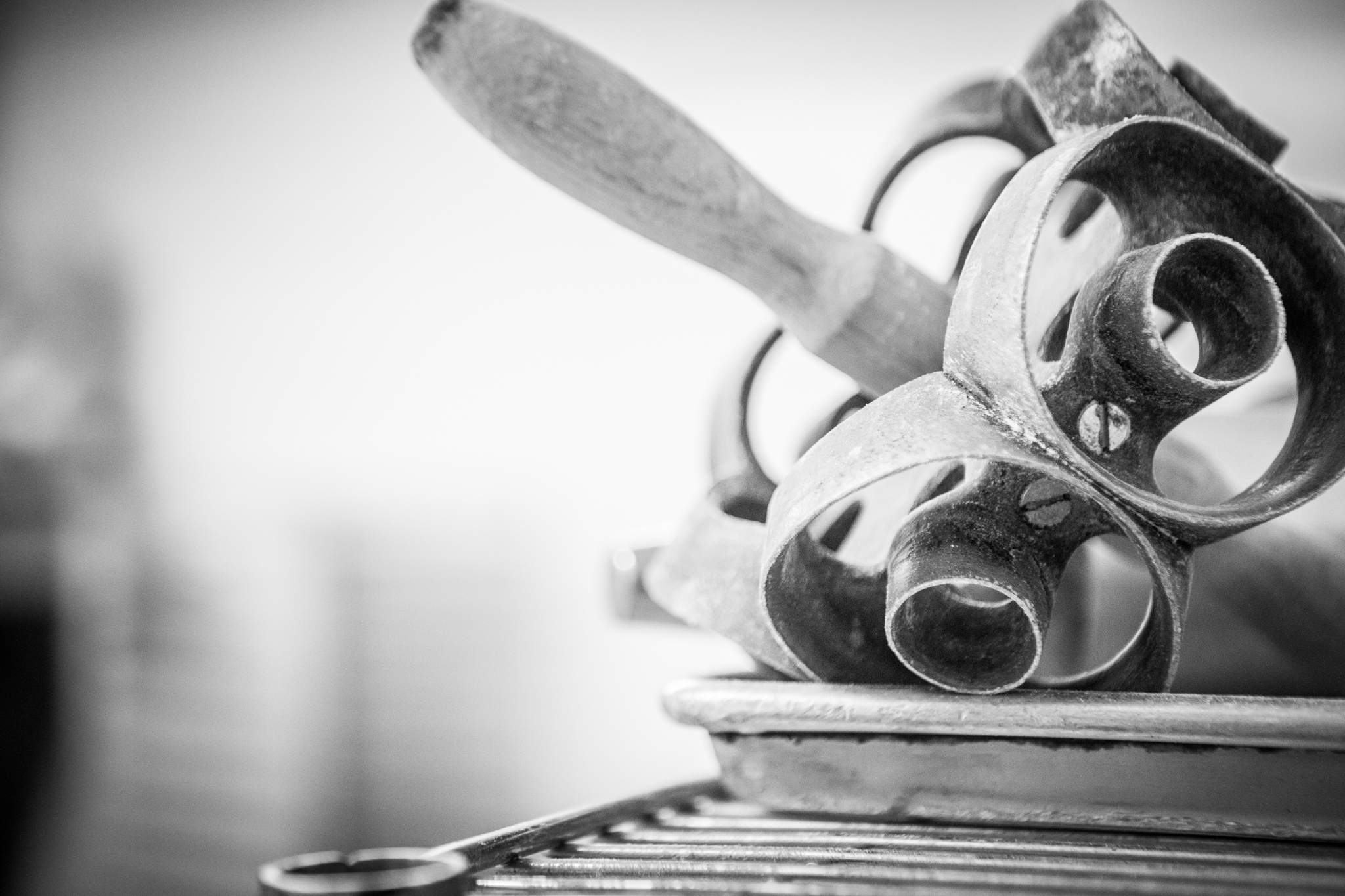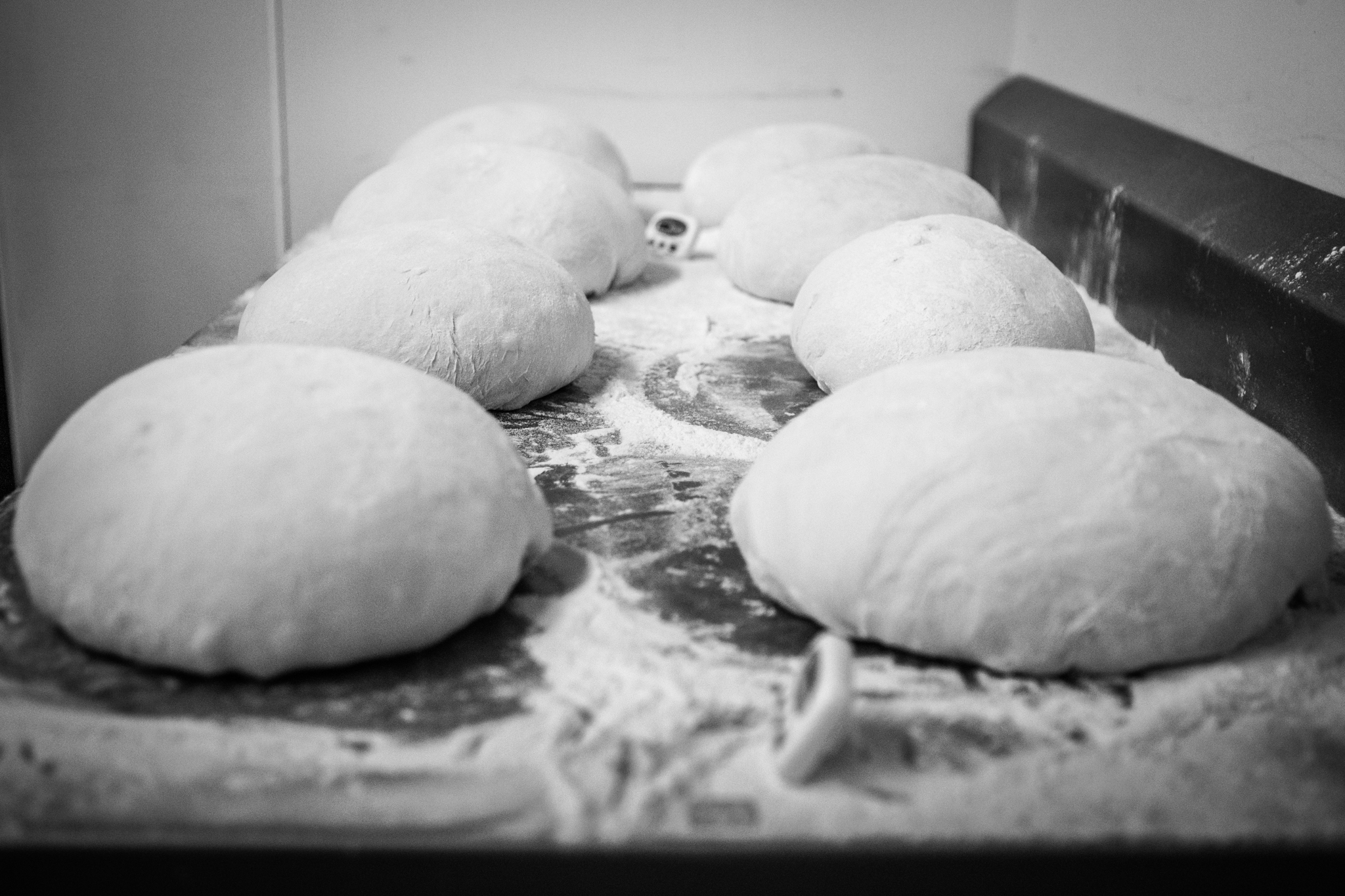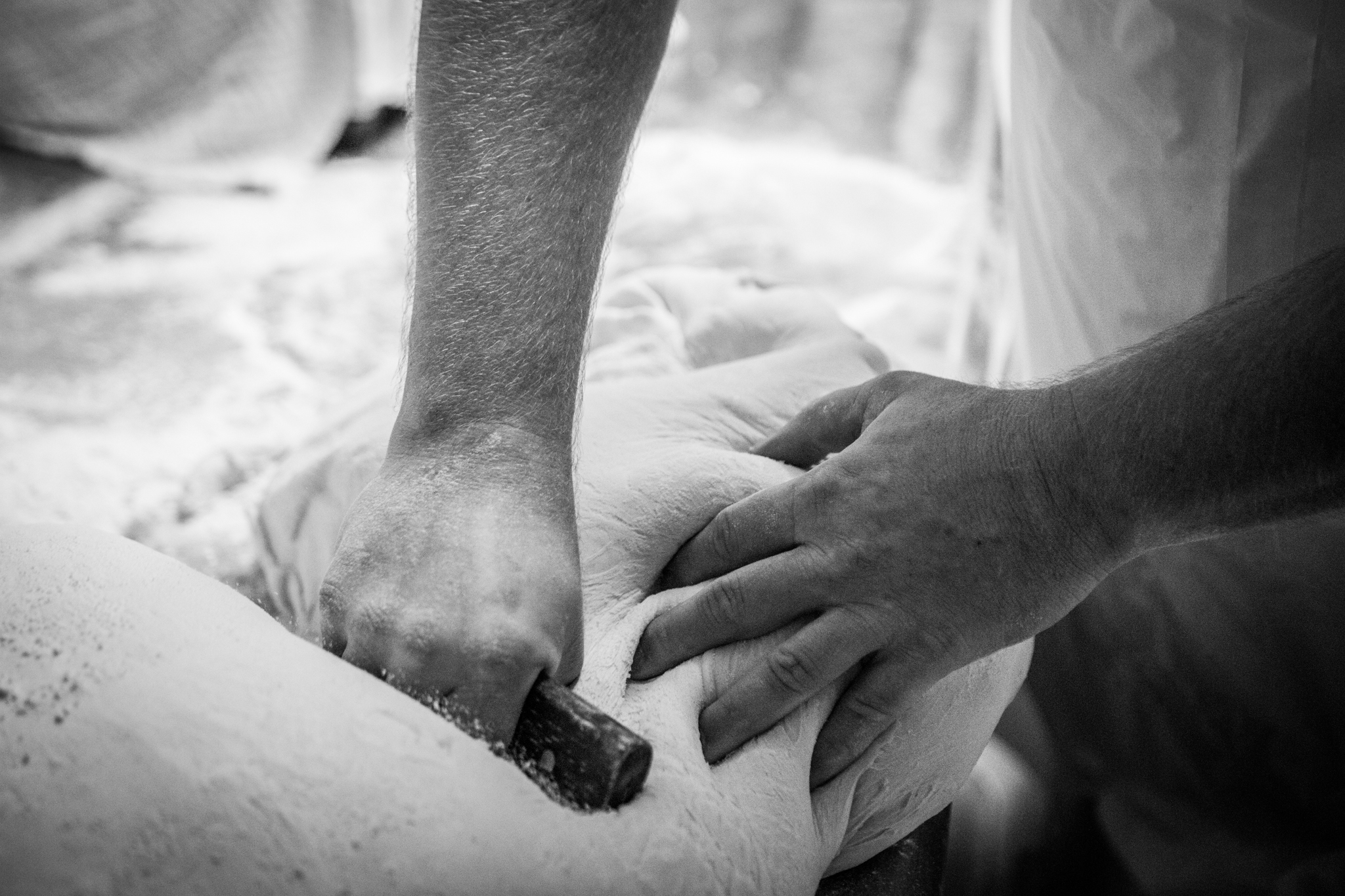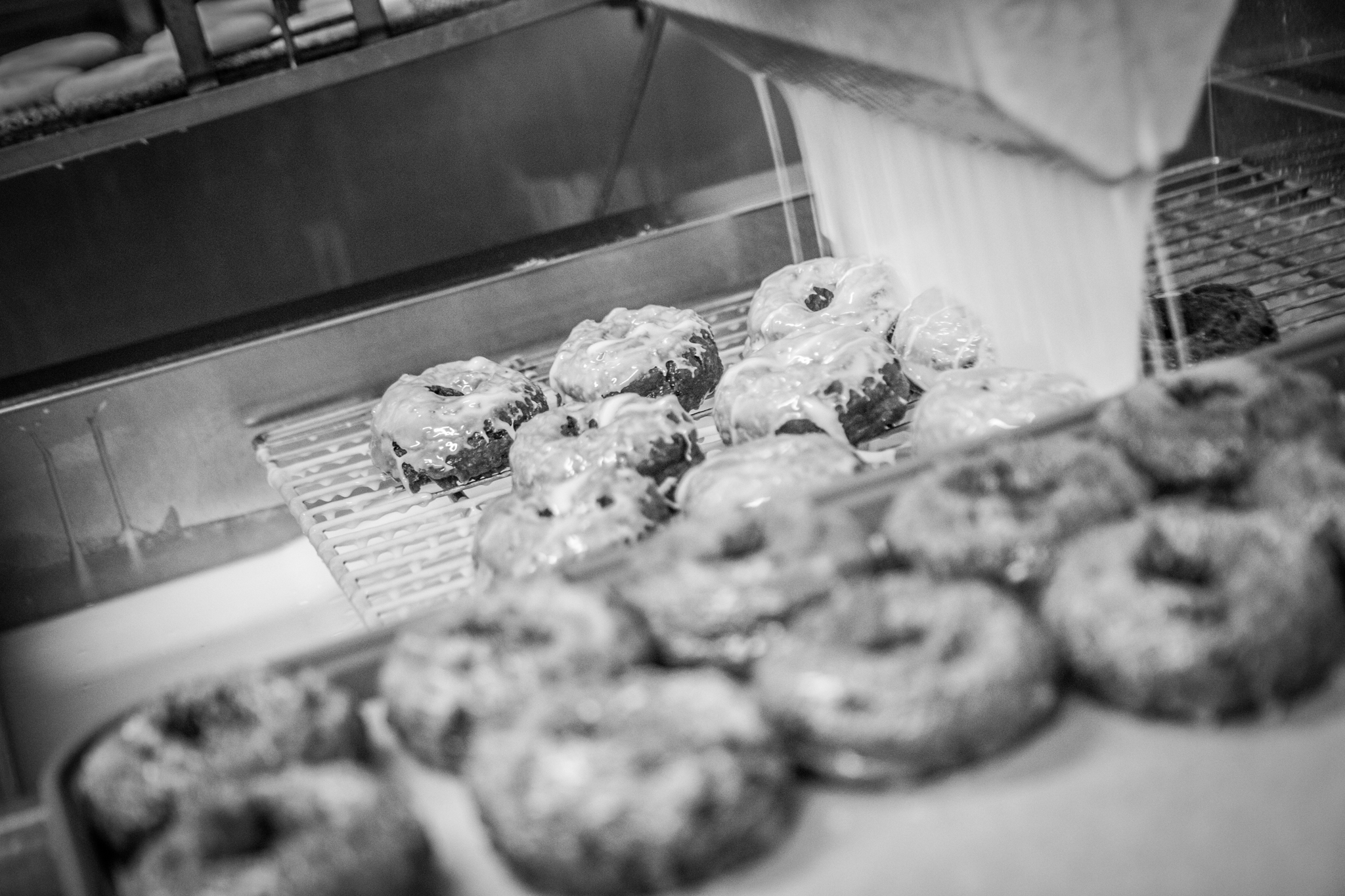 If I had to give one reason why my photos changed, it would be because I didn't try to take the photo. I let the photo fall into my frame. I didn't make a photo, I captured a moment. I'm all for staging models in the studio to get the most beautiful shot possible and portray a desired emotion. But in this scenario, there was no emotion to be created, so why would I pose a shot?
Spot the things in the situation that mean something to what is going on: the line of tools on the wall, the lines of resting dough, the mixing bowls. Then find natural frames within the space. I did that a lot, and it made the shots so much more interesting. Close in on the action that makes the difference in the scene: the kneading and cutting of the dough, the drizzling of the icing, the flipping of the doughnuts.
All these moments, actions and objects contribute to make a scene and a story, and if you can capture those elements, the emotion will fall into place.